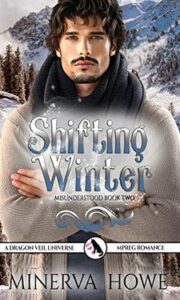 John Leahy had no idea how he became a werewolf, but there's one thing he does know. He's struggling with everything from fitting into the wolf community up in the high mountains of Utah to controlling his shifting. John wants to fit in, to find a home, but most of all, he wants to impress pack co-leader Keegan.
Keegan and his brother took over the pack a few years ago, but there are still some members who think that was a mistake. So it doesn't help things when Keegan takes John as his mate. Even as they work on their mate bond, John is having more and more trouble keeping his wolf side in check. Can Keegan and John start their family even as they deal with the pack and its problems?
Shifting winter is an mpreg wolf shifter romance with a happy ending.